Are you looking for free virtual libraries? Fortunately, there are, and with very complete databases. In this article we will tell you what they are, how they work and which are currently the best.
Now more than ever the world is changing at an accelerated pace. As a result, educational environments have made use of technological resources to keep up with the social needs of the moment.
Traditionally, library services have been of vital importance to the educational process of the student community. In digital environments, this is no different.
Today more than ever, free virtual libraries are necessary, so that anyone can have access to the necessary texts for their academic training.
What are virtual libraries?
If you have visited a traditional library or have read its definition, you will know that they are places where bibliographic, hemerographic and audiovisual material is stored. This is at the service of users for consultation and loan.
Nowadays, libraries have digital material and a technological system that facilitates the consultation of students, professionals and researchers in different areas of knowledge.
Virtual libraries are not very different, only that their access is online and users do not have to travel to access the information they need. They can do so from anywhere with an Internet connection.
Of course, the texts are presented in digital format and, depending on the type of library, they can be downloaded or printed immediately, as in the case of Infobooks.
How can I access the virtual libraries?
Virtual libraries are platforms that are hosted on a website. Nowadays it is very easy to access them, you can do your search on Google or the search engine of your choice and the options will be displayed. Later we will inform you about the best ones.
Once you are on the website, you should check if the library is free to access, if you need to subscribe or generate some kind of key to download the texts. In this case, you must fulfill the requirements requested.
If it is a free virtual library, you simply access the catalog of authors or topics and proceed to consult and/or download.
What are the characteristics of virtual libraries?
All virtual libraries must comply with the following characteristics:
● The format of the documents is digital and they can be: text, audio, images, video or multimedia.
● It allows the downloading of texts and images, generally in PDF format.
● According to their content, they can be general or specialized.
● According to their accessibility, their catalogs can be public, private or semi-private.
● They are collective entities.
● Access to information is universal.
● They present a user-friendly environment.
● They organize content relevant to users.
● Can be accessed anywhere and at any time, being the information free and without damaging or infringing copyright.
What is the importance of virtual libraries?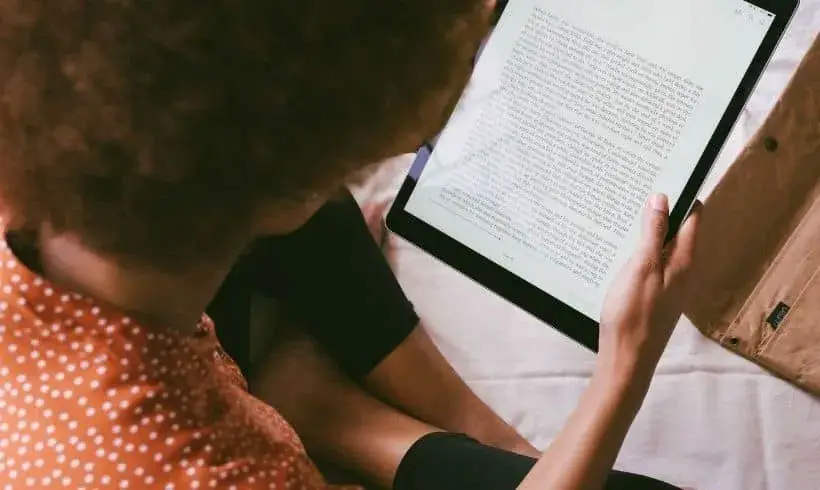 Virtual libraries represent a fantastic solution for millions of people who, for various reasons, need to consult information in an expeditious manner and thus fulfill their academic, professional and/or personal objectives.
In a globalized world, access to knowledge could not remain only in the traditional modality, it had to evolve with technological resources. These were created, among many other things, to facilitate learning so that information services could be in line with the new demands of the general public.
Hence, libraries have evolved towards the virtual model, which is increasingly in demand and essential for the integral formation of individuals and communities.
What are the benefits of accessing virtual libraries?
There are many benefits of being able to access a free virtual library. We will mention the most important ones that give us a perspective of its social relevance.
Breaks the limits of space and time
Users can access the information provided by virtual libraries from anywhere and at any time. This leads to time savings and the possibility of doing so from the comfort of home or from any place where the need for consultation arises.
Immediacy in finding the content
Generally, virtual libraries have a user-friendly interface, the search is made easy and the desired text or document can be accessed immediately. The world of knowledge can be opened in a couple of clicks.
Environmental and documentary conservation
All the materials found are digital, so keeping them in good condition is a natural consequence. There is no deterioration in the texts, which can facilitate reading and avoid problems such as allergies.
On the other hand, future generations will have more assured the cultural heritage that books and other documents represent. When information is physical, it runs the risk of being extinguished by fires, floods and other catastrophes that have already surprised humanity in the past with regrettable losses.
In addition, by having the catalog digitized, it is contributing to the environment. It reduces the consumption of paper and the pollution caused by discarding books that are already in very bad condition.
Money-saving technology resource
Most virtual libraries have public domain catalogs and free access. For a student it is especially advantageous, being able to download important texts for their education without spending a single dollar.
Also for the general community of professionals, researchers or simple lovers of knowledge and art. It is an indisputable privilege to have a free virtual library at hand.
1) InfoBooks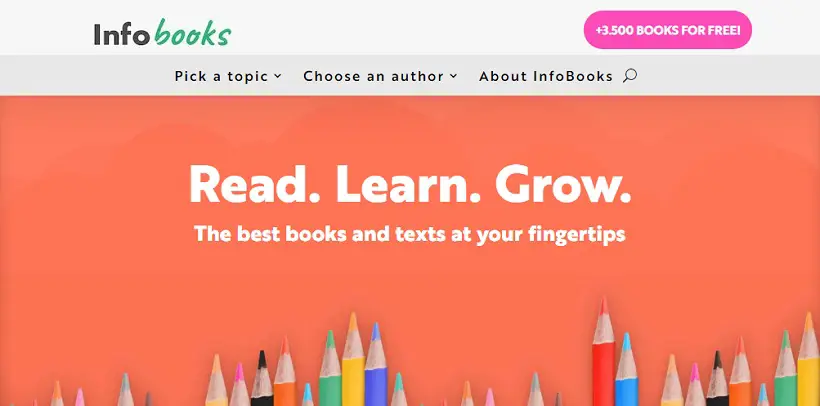 Read, Learn, Grow… is the slogan of our digital library with the number 1 position in our ranking, which is called InfoBooks. A website dedicated to the dissemination of literature, offering an extensive catalog, with the best books at your fingertips.
It is divided into three sections to facilitate the search for content, the first called "Best books to read" focuses on a special collection of various topics classified by famous authors, the second is "Free books and texts", where you will find public domain literature that you can download, and the third section contains resources to improve your reading.
It is one of the most visited digital libraries due to its good repertoire of topics, you can find books on: business and investments, personal improvement, cooking and drinks, sports, language learning, mystery, suspense, history, mythology, medicine, psychology, and many others of great interest.
2) Project Gutenberg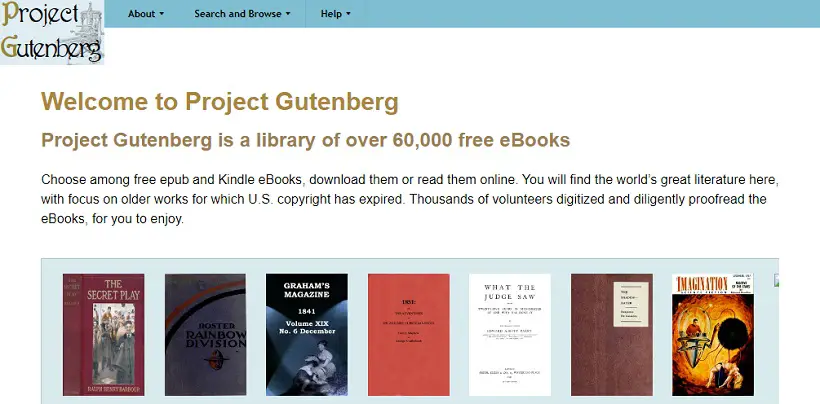 Project Gutenberg is a site that has available sixty thousand "free" books that are free of copyright so to speak, since the rights according to certain laws have expired in this case. That is why they can be downloaded with total peace of mind.
It is a project that was born in 1971 by Michael Hart in order to create a library of free electronic books from books that already exist physically. It is considered the oldest digital library that drives the creation and distribution of eBooks.
Due to the amount of titles available, you can get all kinds of books, from history to science books, philosophies, music, design, opera, etc.
3) Internet Archive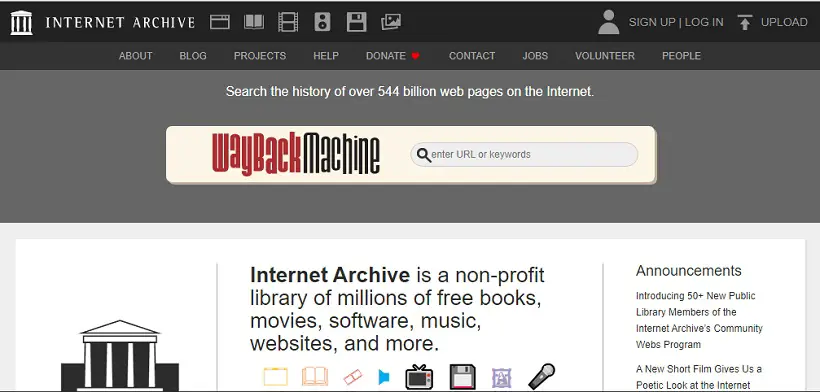 It is a non-profit digital library created in 1996 by Brewster Kahle whose archive is made up of millions of books made available to the general public. It also hosts a large number of video (movies), audio (music) and software files, etc. Most of its content is allowed to be distributed free of charge as it is in the public domain or holds Creative Commons licenses.
It is not necessary to register to access the information, so any user can easily view and download it, although those who decide to register obtain other benefits such as access to more than 1.3 million copyrighted e-books.
This organization has among its missions the preservation of multimedia resources and the cultural and intangible heritage of the Internet, as well as providing universal access to information and knowledge. It is important to mention that Internet Archive exists thanks to the support of Alexa Internet, the Library of Congress and public and private libraries.
4) International Children's Digital Library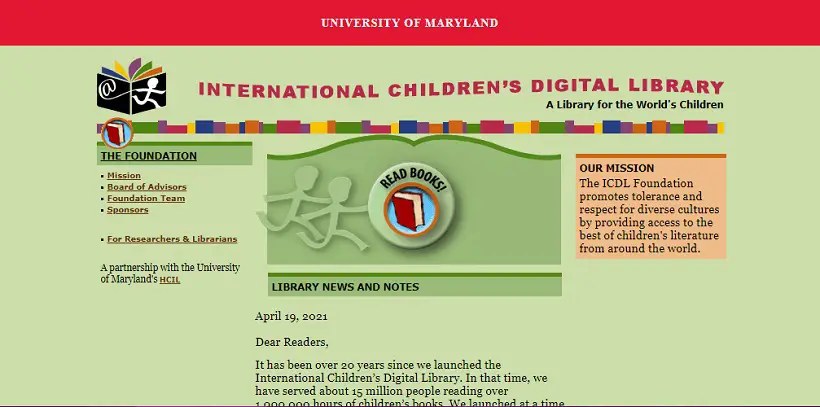 This online, open-access library was founded in 2002 by Ben Bederson, Allison Druin, Ann Weeks, Anne Rose, and Tim Browne, and includes material appropriate and carefully selected for use by children ages 3-13. And to date it is considered one of the most comprehensive collections of children's books available on the Internet with the permission of the authors and publishers.
The International Children's Digital Library offers digitized books in more than 50 languages and from many countries, making it a multicultural compendium that encourages respect for different cultures around the world. It has an easy-to-access interface and allows you to locate books by age, language, genre, country, etc.
Among the advantages of this non-profit organization is the security it provides to parents thanks to its strict privacy policies, stating that the information provided is not distributed to third parties. In April 2021, due to various reasons, they decided to disconnect the service.
5) Bartleby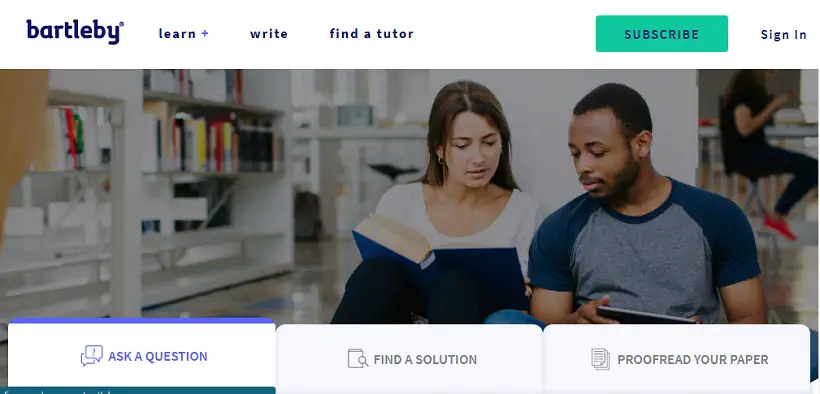 This open-access database is named after Herman Melville's story "Bartleby, the Scrivener" and was founded in 1993 by Steven H. van Leeuwen. It is considered an electronic archive of both complete classic works and out-of-copyright fiction, nonfiction, and poetry writings, offering recent material as well.
Books can be searched through the index or by keywords, and it also offers question and answer services, an essay writing tool, and online tutorials for those working on research projects and report writing.
For all these reasons, it is considered a virtual library of great importance for students (primary, secondary or university level), researchers and the general public who make use of the vast number of books that are available free of charge.
6) Open Library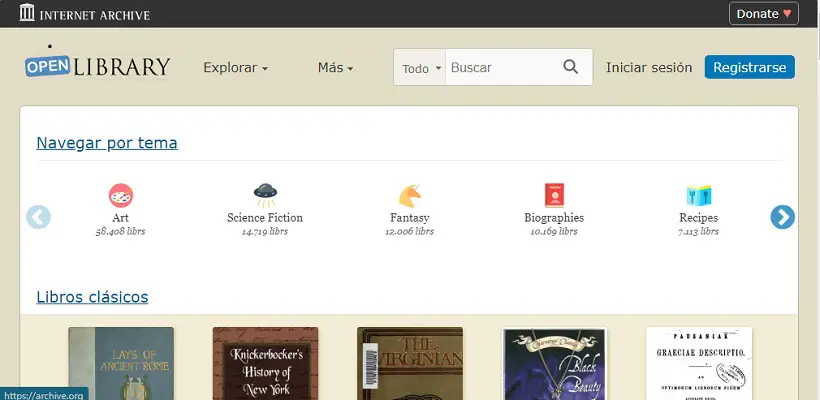 Open Library was created in 2006 by Aaron Swartz, Brewster Kahle, Alexis Rossi, Anand Chitipothu, and Rebecca Malamud, it is an open project of the Internet Archive organization that offers online digital copies of book collections, traditional libraries, etc.
When we say that it is a free project we mean that the information and documentation it provides is open and its software is free, so the database in constant creation is publicly accessible and collaborative.
That is, everyone can be a contributor to it, from librarians to reading enthusiasts who wish to expand the catalog of digitized books, as indicated by its slogan "one web page for every book ever published". The material is available in various formats, is in the public domain and consists of out-of-print books or books in circulation.
7) World Digital Library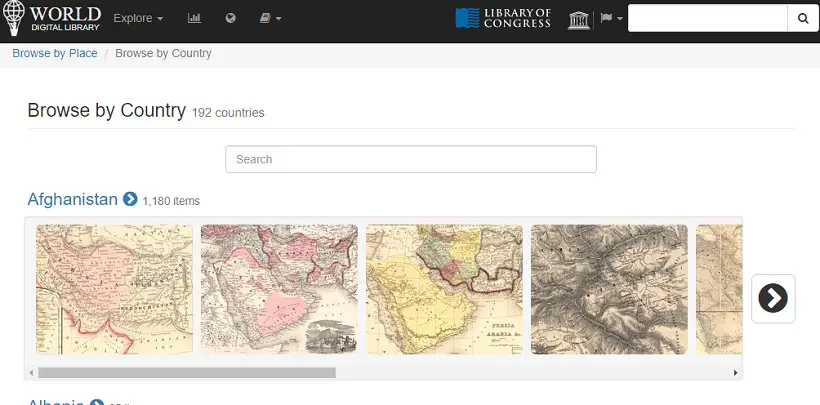 World Digital Library it is a digital library created in 2009 through a partnership between the Library of Congress and UNESCO, with the cooperation of libraries, museums, educational institutions and international organizations around the world. Among its objectives is to increase the variety of cultural content on the web and provide scholarly resources to educators, researchers and the general public.
It makes available an extensive compilation of rare books, manuscripts, maps, recordings, photographs, among other materials of high cultural significance to humanity. The information can be accessed by topic, time, place, language, etc., and free of charge.
The page interface is accessible in English, Arabic, Chinese, Spanish, French, Portuguese and Russian, and the bibliographic information offered can be listened to in these languages thanks to the text-to-speech conversion option.
8) Google Books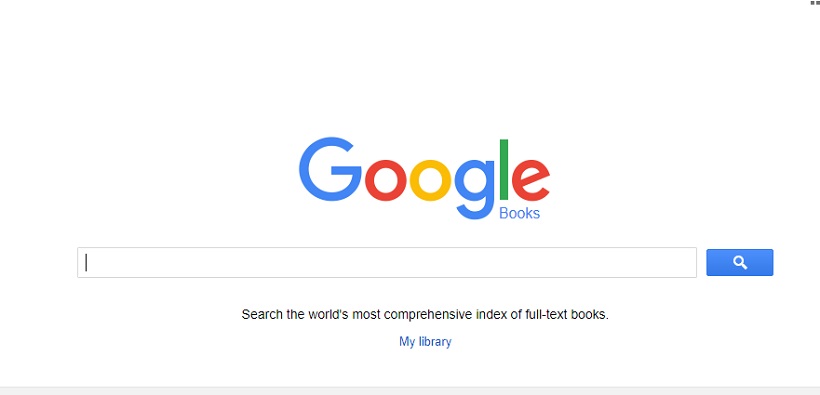 It is a search engine offered by Google, whose database is constantly growing in order to spread knowledge and promote education. One of the strengths of this service is that it allows specific searches within the content of millions of books thanks to the keyword search engine.
Although it has certain limitations of use, it allows you to read and download in PDF format books and materials that are in the public domain and without copyright, although they are rigorous when it comes to adhering to the copyright laws of each country.
There are certain benefits for those users who access this search engine through a Google account such as viewing a larger number of pages, this is because non-registered people can only view a small number of pages for free, since Google Books limits the number of pages visible and prevents the copying and printing of the material.
9) Many Books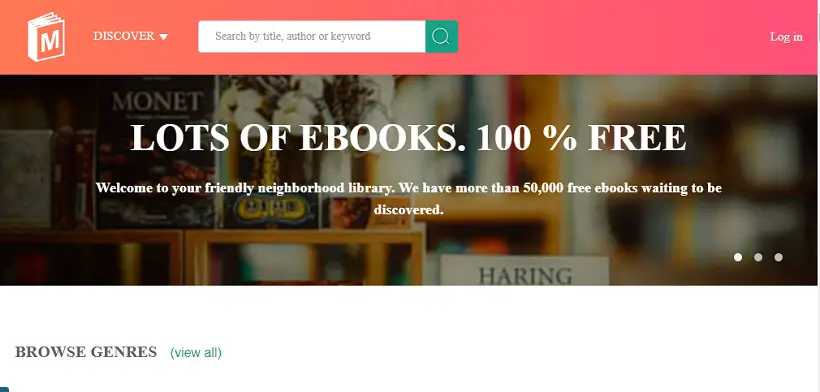 Many Books is an online library with a simple and user-friendly interface which facilitates the search for free books available, being able to access them by the following sections: most popular, featured authors, titles, languages, recommended, etc. It has an extensive catalog of books in various reading formats, from classic literature to modern texts.
This digital library was created in 2004 in order to expand the reading material (in its different genres and purposes) that is freely and legally accessible on the Internet. There are several genres and authors available in it, according to its words there are more than 50,000 electronic books.
It is also a platform where authors have the possibility to make their work known to the public and to the large community of readers that participate in Many Books (more than 100,000 members).
10) Bibliomania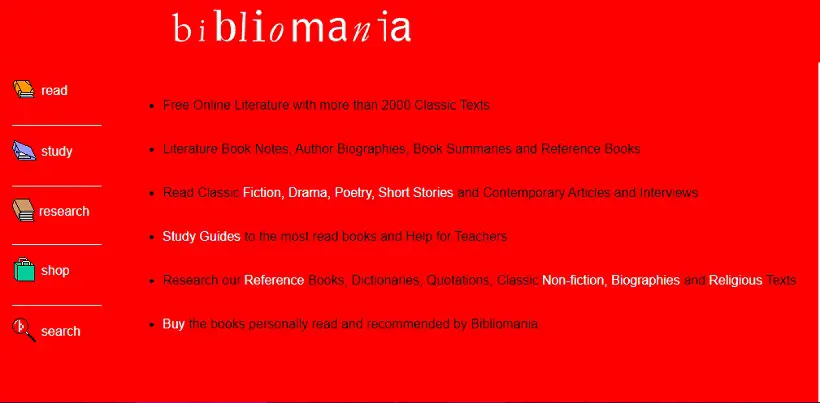 Bibliomania is a high quality platform where users can access thousands of literary, academic (study guides and articles) and divulgation books. It has a great amount of resources for those who are dedicated to literary study, since it has poems, short stories and plays, and it also has a community of bibliophiles with whom you can interact and exchange opinions and recommendations.
This free online library makes available to its users electronic books by renowned authors such as Shakespeare, Mark Twain, Charles Dickens, Sir Arthur Conan Doyle, Edgar Allan Poe, among many others, highlighting the genres of drama, classic fiction, non-fiction, etc.
It also includes texts of author biographies, book summaries, contemporary articles, interviews and reference books, having more than 2000 texts of classic literature.
11) LibriVox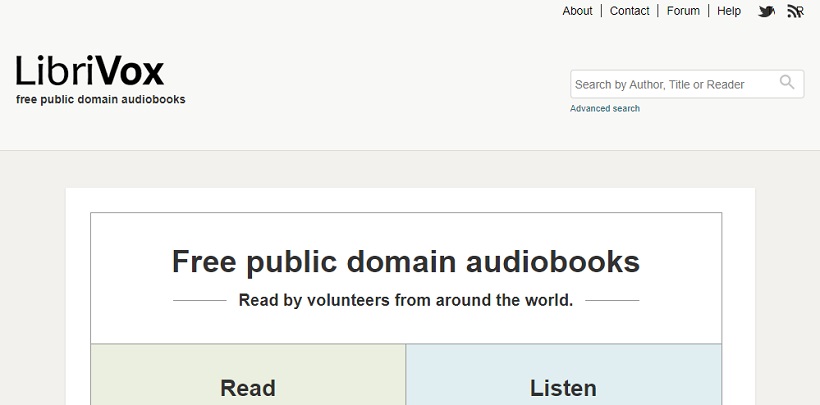 LibriVox is an online digital library founded in 2005 that stands out because it offers books in audio format, that is, audiobooks. It currently has more than 13,000 free audiobooks (short stories, poetry, dramatic works, etc.) for listening and downloading, which are also in the public domain.
It is the readers themselves -from different parts of the world- who voluntarily collaborate with the platform by recording their own voice to give life to the audiobooks, this process is verified to ensure that it meets quality standards and that the audio provided is perceived in a clear and understandable way.
Although most of the content is in English, works are also available in approximately 30 different languages, which are offered in MP3 format with the possibility of direct download or through torrents. They are also stored in the Internet Archive.
12) Universal Digital Library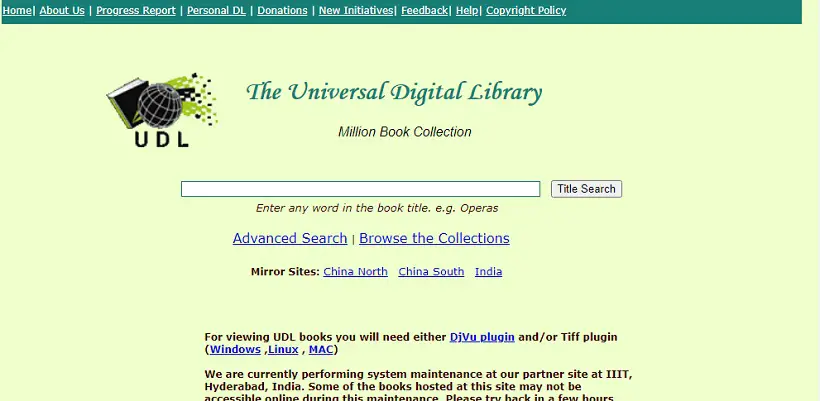 It is a digital library that has among its purposes to preserve literary works (whether scientific or artistic) of greater relevance to human beings, enabling access to future generations. It is also a means that allows anyone from anywhere in the world to access the study and appreciation of these texts for free, thus promoting human knowledge.
This makes it a freely accessible resource available 24 hours a day, regardless of the nationality or socioeconomic level of the user, as long as they have an Internet connection and an electronic device that allows access.
This Universal Digital Library has a collection of books ranging from science, history, philosophy, among many other topics.
13) Ibiblio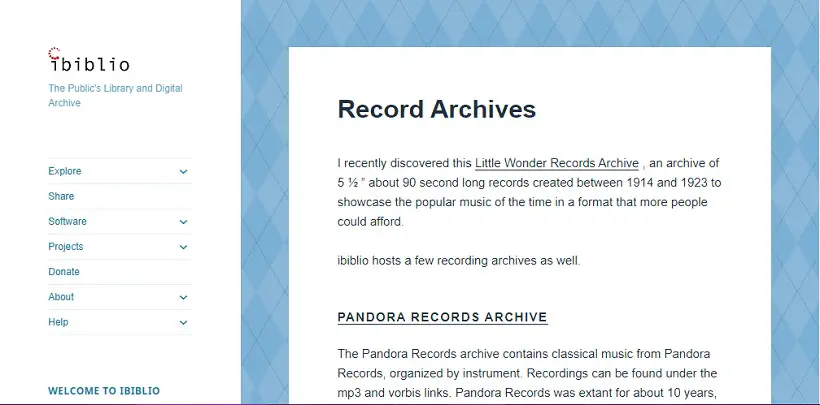 Ibiblio was formed in 2000 through a collaboration between the MetaLab at the University of North Carolina-Chapel Hill and the Center for the Public Domain and is considered one of the largest collections of information available on the web, and is also a member of the Open Library.
It is a virtual library and archive of electronic material that hosts a wide range of information that is in the public domain (unless otherwise specified), including texts from diverse fields such as literature, history, politics, art and science, as well as music and software.
The material is shared freely and within legal statutes, which favors the exchange and preservation of cultural information of great importance to the world's communities.
14) The Digital Library
This Digital Library founded in 2007 offers a wide catalog of ebooks (in the most used digital formats: PDF, ePub) that belong to the public domain. We can download them for free, without registration, and they are also offered in different languages. We can also access books for purchase if we wish.
The number of available materials is constantly growing as it is characterized by being an open community, that is, its users can take the initiative to upload books that are not yet included and that are part of the public domain. In addition to this, it has a very easy to use interface and allows you to search for books by categories and authors. It also offers recommendations based on the books we have already downloaded.
It is important to mention that it has a publishing service through which writers or amateur writers can share their work with the rest of the users of the community.
15) Free eBooks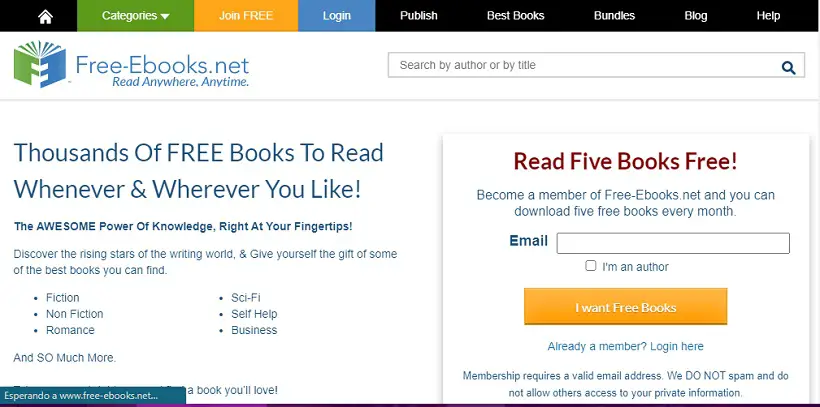 Free eBooks is a free and legal platform that allows you to download books in digital format (for Amazon Kindle, iPad, smartphones or any other electronic reader). Also, books are available in audio format.
Its library consists of a vast collection of eBooks of various genres: classic literature, drama, romance, fiction, etc. Academic texts and self-motivation literature are also available, that is, there is something for all tastes and information needs.
To download the books, it is necessary for the user to register, which is done free of charge, although if you wish you can opt for the monthly payment service or the V.I.P. which allows unlimited access and downloading of books in epub, HTML, txt and kindle formats.
EXTRA: Amazon Kindle Unlimited Free for 30 days!
We have reached one of the best of all digital libraries, one of the most consulted, we are talking about Amazon Kindle Unlimited, a site where you can find all kinds of books, belonging to the most famous authors of the moment and antiquity.
It should be noted that it is a paid library but following the link below you can enjoy a free trial for 30 days. To access click here.
Among the categories available are: books on love, romance, science fiction, mystery, suspense, psychological horror, adventure, fantasy, languages, history, medical sciences, and many more.