For those who love reading in all senses and formats, we have created a beautiful selection of books in Portuguese, with the idea that you can enjoy your favorite stories in this beautiful dialect.
Portuguese is characterized by being a language rich in accents and for having a very unique rhythmic pronunciation; these aspects are great tools for writers, who have used them masterfully in their creations.
If you are learning this language, our collection of books in Portuguese can be an excellent ally to advance your understanding and learning; besides enjoying good stories, you will be reinforcing your knowledge of Portuguese.
The literary pieces that make up our collection are the most relevant and outstanding written or translated into this European language, so we are sure you will enjoy each one of them. 
In case you wish to broaden your horizons by reading other books in Portuguese in PDF format, we invite you to visit our website InfoLivros, an unparalleled digital library.
7) Portuguese Learning Books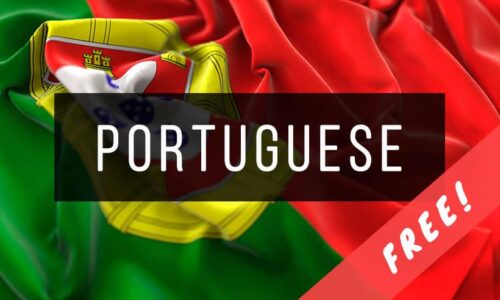 Portuguese is one of the few languages that, when listened to, transmits all the essence of its culture, whether Brazilian or Portuguese. With a magical sound, in the words of Miguel de Cervantes, "sweet and pleasant", it is the language of fado and bossa nova. A language spoken by more than 200 million people and ranked sixth in the world as the most spoken mother tongue, ahead of German or French.
It is the official language of Brazil, which is also known as Brasileiro. From a strictly linguistic point of view, it is a dialect of Portuguese that offers some phonological, syntactic and lexical differences from it. In general, the term Portuguese applies to both varieties.
The grammar of Portuguese is similar in morphology and syntax to the grammar of most Romance languages, especially to the grammar of Galician and the grammars of other languages of the Iberian Peninsula. Portuguese is a fusional and synthetic language.

FREE BOOKS [PDF]
20+ Portuguese Learning Books for Free! [PDF]