Edward John Moreton Drax Plunkett, Lord Dunsany, was born in London in July 1878. He belonged to an old Irish family and obtained the family title as 18th Baron of Dunsany.
He received a first-class English education at Eton and Sandhurst military academy, and joined a fashionable and famous regiment, the Coldstream Guards, which had been his grandfather's regiment.
He served as a junior officer in Gibraltar and then in the Boer War from 1899 to 1902.
Dunsany married Lady Beatrice Child Villiers, daughter of the 7th Earl of Jersey, in 1904. They had one son, Randal Arthur Henry, who was born in 1906. Eventually, Dunsany gave his son the famous family castle in County Meath, and Dunsany and his wife lived in England. 
Although Dunsany always considered himself a poet, it was not through his verse that he achieved fame. Dunsany published several collections of short stories, but he first became known through his association with the Abbey Theatre in Dublin, which began with the production of The Glittering Gate in 1909.
In World War I, he was a captain in the Fifth Fusiliers that killed Innis, serving with distinction in France, and received some minor wounds while fighting Irish insurgents in 1916.
After World War I, Dunsany turned to literature as a sideline and was a prolific writer of plays (with the support of William Butler Yeats and others), short stories, poetry, and novels. Dunsany's personal opinions, prejudices, and passions, including his fondness for sports, appear often in his work.
He is remembered primarily for several of his stories, including "Two Bottles of Relish" (1932) and for several plays that became part of his complete works.
Dunsany claimed that the fantasy novels and short stories he wrote simply came to him without much effort. Although he had a quick, sharp wit and sometimes black humor, his theory was that the artist goes beyond what his "intellect can discover". At his best, Dunsany was driven by his vivid imagination, and the dreamlike quality of his best works made him famous.
During World War II, Dunsany returned to Dunstall Priory in England as part of the Home Guard, hoping to help, if necessary, capture downed German pilots or defend England from possible invasion, which did not happen, much to Dunsany's disappointment at his inability to contribute anything to the war effort.
However, the threat of German invasion in 1941 forced Dunsany to flee Greece, where he had gone with his wife after his appointment as Byron Professor of English Literature at the National University of Athens.
Since Dunsany's colorful personality was one of his greatest character creations as any of those who appear in his fiction, many find it pertinent to consider his various autobiographies as part of his literary achievement. He describes his life in My Ireland (1937), Patches of Sunlight (1938), While the Sirens Slept (1944), and The Sirens Wake (1945).
Apart from his more conventional works, Dunsany is usually known as a fantasist, and his anti-modernist sentiments did not incline him much toward science fiction. However, a late novel, The Last Revolution (1951), straddles the line between fantasy and science fiction, although its ideas still parallel the general nostalgia of his work. The Last Revolution follows a theme found in many other works of science fiction: machines turn against those who created them.
Dunsany remained active until the end of his life, writing extensively and traveling frequently. He died at the age of seventy-nine from appendicitis on October 25, 1957, leaving a large body of uncollected works in addition to his dozens of published books.
1) A Dreamer's Palace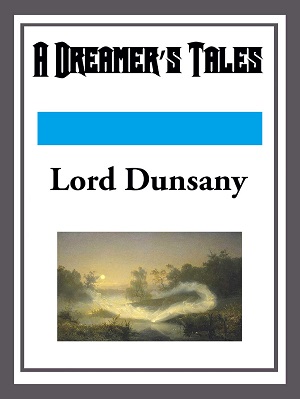 A Dreamers Palace is a collection of fantastic tales that was first published in September 1910. It includes 16 stories and a preface. Among the tales included we can mention: "Poltarnees, Beholder of Ocean", in which a man is sent to look over a mountain, to which, if any man climbs, he never returns.
In "The Madness of Andelsprutz" a man engages in a conversation with two others about whether or not the city of Andelsprutz is dead, to which one of the men tells that the city has a soul, he knows this because he saw it and engaged in a conversation with it.
In "The Hashish Man" the narrator meets a man who has visited the city of Bethmoora -the name of another of the stories included in the book- who tells him that the city was abandoned by order of Emperor Thuba Mleen of Utnar Vehi. Other stories are: "The Sword and the Idol'', "The Hashish Man", "In Zaccarath'', "The Day of the Poll", etc.
2) Don Rodriguez Chronicles of Shadow Valley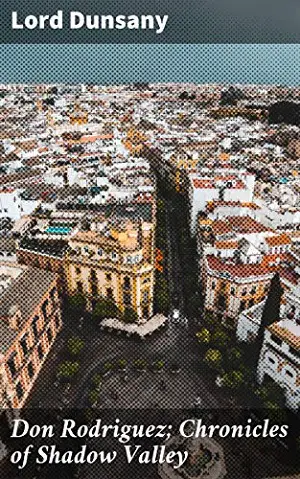 Don Rodriguez Chronicles of Shadow Valley is an amusing fantasy novel published in February 1922, also known as "The Chronicles of Rodriguez". The protagonist, Rodriguez, is excluded from the inheritance of the family castle with the excuse that, given his skill with the sword, he should be able to earn his own wealth, besides his father, on his deathbed, sends him out into the world to make his own fortune.
With the company of his servant Morano -a sort of Quixote's Sancho Panza- Rodriguez sets out to roam the countryside in search of fortune and glory, living a series of extraordinary adventures that lead him to the mythical Shadow Valley.
One of the most remarkable aspects of this story is how it describes the differences in perception between a curious and knowledgeable mind, personified by Rodriguez, and a more practically focused mind, which would correspond to Morano.
3) Fifty One Tales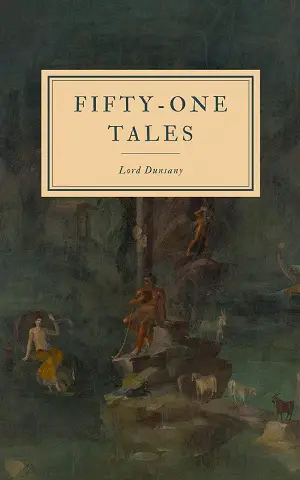 Fifty One Tales is a collection of fantasy literature first published in April 1915. The British and American editions differ in that each includes a story that the other omits, The Poet Speaks with Earth in the British version, and The Mist in the American.
The American version of the text was used in 1974 by the Newcastle Publishing Company for the third volume of the Newcastle Forgotten Fantasy Library, due to its great relevance within the genre of fantasy literature, being published as The Food of Death: Fifty-One Tales.
As presumed by its title, it consists of 51 short stories, among which we can mention: The Assignation, Wind and Fog, Death and the Orange, The Worm and the Angel, Alone the Immortals, A Losing Game, The Lonely Idol, Lobster Salad, etc.
4) Tales of Three Hemisphere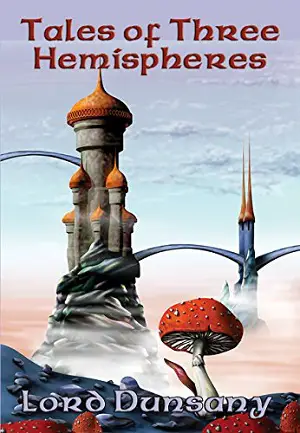 Tales of Three Hemispheres is a collection of fantasy stories by Lord Dunsany.
The first edition was published in Boston (United States) by John W. Luce & Co. in November 1919; the first British edition was published in London by T. Fisher Unwin in June 1920.
The book collects 14 stories; the last three, under the general title of Beyond the Fields We Know, are related stories, as explained in the editor's note preceding the first, Idle Days on the Yann, previously published in the author's earlier collection, A Dreamer's Tales, but reprinted in the present one because of its relationship to the other two.
5) Tales of Wonder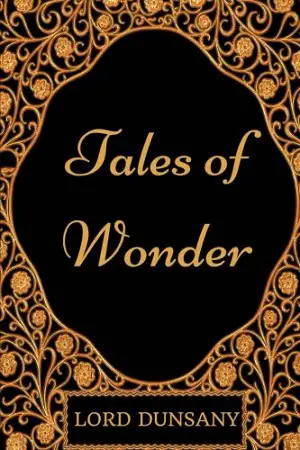 Tales of Wonderis a collection of short stories also known as "The Last Book of Wonder", a title Dunsany preferred, the first edition of which was published in 1916. It could be said that Dunsany was ahead of the literature of his time, as his work is still relevant and feels modern even now.
Among his stories we have A Tale of London, an amusing tale of a sultan seduced by the stories of London, is a tale that speaks to the mundanity of contemporary life. In The City on Mallington Moor a marble city appears to a drunkard on a desolate moor in the north of England.
In The Secret of the Sea, ships are a kind of sentient entity; easily overcome by the will of their crew, but free to drift when the human crew is lost or incapacitated. Light the fire of imagination, amuse and transport yourself, with these 19 short stories of magical realism and intrigue.
6) The Gods of Pegana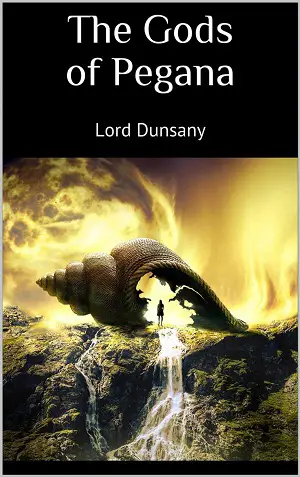 The Gods of Pegana is Lord Dunsany's first book, published in 1905. It consists of a series of short stories starring fictional deities created by Dunsany, each with personality and power over human life, who inhabit Pegāna.
These deranged, cruel and somewhat insane deities amuse themselves by inflicting harm on their misguided worshippers. These are: Mana-Yood-Sushai, chief of all gods, who also created them and then fell asleep. When he awakens, he will return to create new gods and other worlds, and destroy what he has made. Skarl the Drummer, who eternally beats a drum to lull his creator to sleep, for if he stops doing so Mana-Yood-Sushai will awaken, and there will be no more worlds or gods.
Other gods are: Kib, Mung, Limpang-Tung, Roon, Hoodrazai, Mosahn, etc. Among the stories included in this book we can mention: The Gods of Pegāna, Of the Making of the Worlds, The Chaunt of the Gods, Concerning Sish, among others.
7) The Sword of Welleran and Other Stories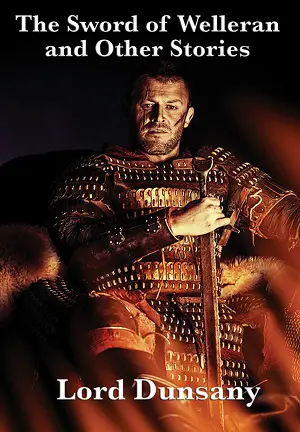 The Sword of Welleran and Other Stories is the third book by Anglo-Irish fantasy writer Lord Dunsany, considered a major influence on the work of J. R. R. Tolkien, H. P. Lovecraft, Ursula K. Le Guin and others.
George Allen & Sons first published it in hardcover in October 1908 and it has been reprinted several times since. Published by Modern Library in a combined edition with "A Dreamer's Tales" as "A Dreamer's Tales and Other Stories" in 1917.
The book is a series of short stories, some of them linked by Dunsany's invented pantheon of Pegāna-dwelling deities, which were the focus of his earlier collections The Gods of Pegāna and Time and the Gods.
One of the stories, The Fortress Unvanquishable, Save for Sacnoth, was later (1910) published as a stand-alone book, in an Art-and-Craft-style limited edition, now very rare.
8) Time and the Gods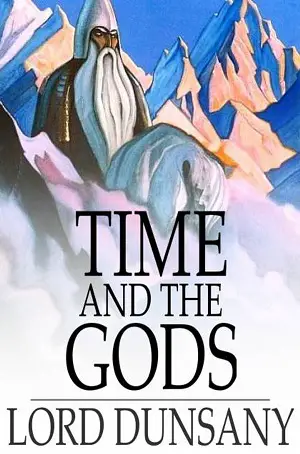 It is a series of short stories first published in September 1906. It is set in the same world as its predecessor (The Gods of Pegāna) and, as its name indicates, deals with the deities created by Dunsany.
InTime and the Godsthere is a whole mythology that oscillates between wonder and simplicity, with great insight and replete with beautiful prose, which is what makes it so engaging to read. Among his tales of mysticism and wonder are Time and the Gods, The Vengeance of Men, The Cave of Kai, For the Honor of the Gods, Mlideen, In the Land of Time, The Dreams of the Prophet, etc.
Although some readers claim that the first few stories included are somewhat weak, as one progresses one finds literary gems that inspire the desire to write a collection of fantastic tales of one's own. For its strong stories more than compensate for the weaker stories.
9) Unhappy Far off Things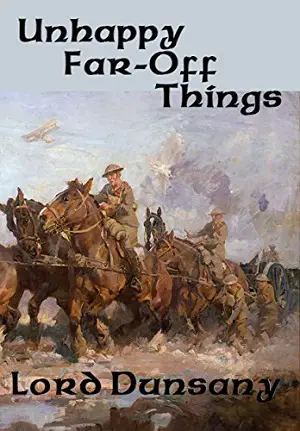 In this book, Dunsany is more poetic, reflecting on the vestiges that survive from happier times. It leaves the impression that the Irish author was aware that a whole era had passed and looked back with nostalgia, longing for simpler times.
Specifically,Unhappy Far off Things is about France after World War I, capturing the desolation and ruins the villages suffered after the bombings, it is also about the people, but not as much. It focuses mainly on the decay of civilization, the destroyed French villages and the few surviving remnants of them.
Like many war-related stories, it presents us with a heartbreaking tale of man's stupidity and the innocent things that fall victim to it. It shows the horrors that can be caused by those who feed on hatred for anyone who does not belong to their group.